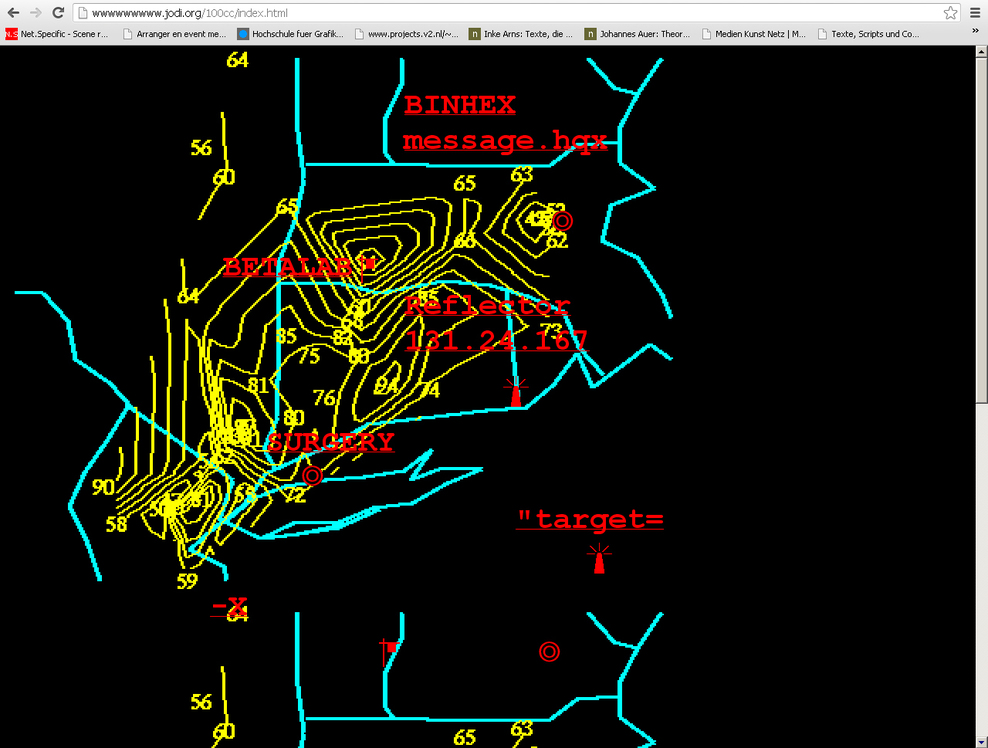 Share
About JODI (NL/B)
JODI is a net art group consisting of Joan Heemskerk and Dirk Paesmans. The group was one of the first to use the Internet's creative possibilities. Already around 1994 they were beginning to use the Internet as material.
JODI often work with code in their works, where the usual set-up of web-pages is deconstructed. In JODI's works the users encounter a chaotic interface, where elements often flash and jump around on the screen. Such imagery has become JODI's trademark method of using the Internet; where the error becomes an artistic tool. Their chaotic but still lyrical use of code has also been called code poetry. As well as using webpages for their works, JODI have also worked with the e-mail and the mailing list as media in which logic is once again challenged and the error provides the key element.
The Internet is, to this extent, where JODI's works belong. The group uses all the properties of the Internet, which can affect the expression of the work. They have in some cases, taken web browsers apart and created their own equivalent versions. They have also made their own versions of well-known computer games such as Quake and Wolfenstein.
Like many other net artists JODI have entered into the social media world. For example, in the work Global Move (2003), where they use the mapping site Google Maps, or the installation Sk8monkey on Twitter (2010), where the user of the work makes status updates to the Twitter network by literally using the computer's custom-built keyboard as a skateboard. Sk8monkey on Twitter is also an example of JODI's web-based works that simultaneously engage real space. JODI make tools that allow the user to become a part of a performance that they themselves are co-creators of.
More JODI online:
http://wwwwwwwww.jodi.org/
http://jodi.org
http://sod.jodi.org/
http://oss.jodi.org/
http://404.jodi.org/
http://asdfg.jodi.org/