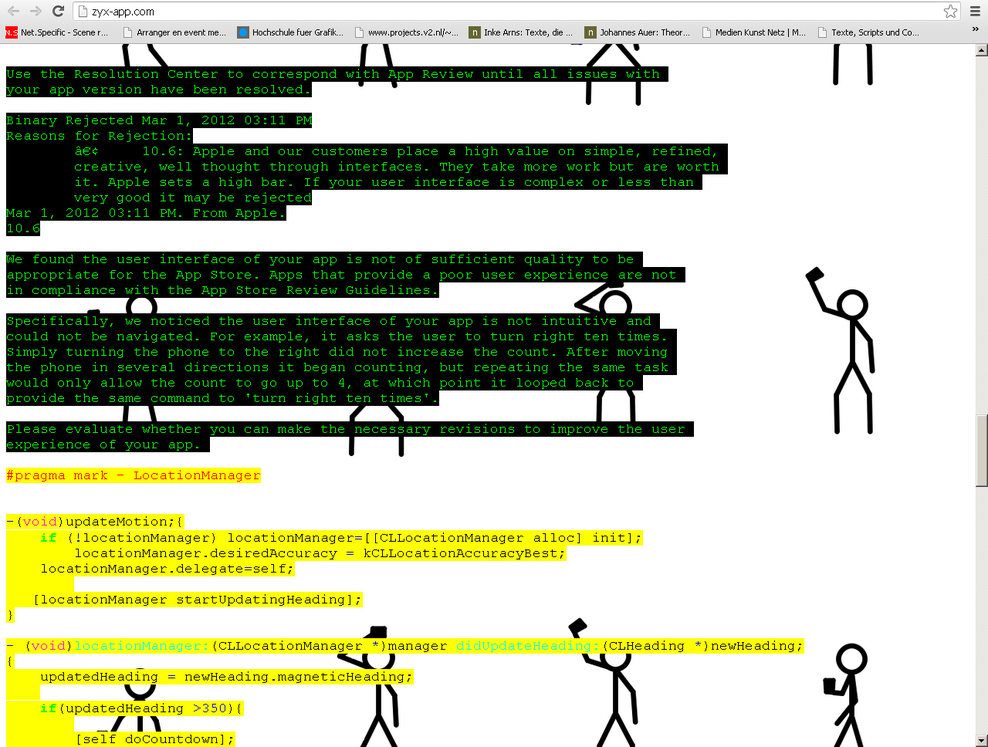 Share
About the artwork: ZYX (2012)
For the Net.Specific exhibition Communication Paths, JODI have created the work ZYX.
ZYX is a so-called app – an application – which is a small computer program that can be used on a 'Smartphone'.
The work is a tool that engages the user, and which plays with the interface that app users are used to seeing. JODI has made several versions of ZYX, and for Net.Specific they have made a version 1.2. ZYX is a performance tool that enables the user to see and experience their surroundings in a new way, as they have to move around according to the instructions which the application gives them. It allows the users to become performers themselves.
The application has a corresponding website that has both code as well as small illustrations of the application in use. Also on the site correspondence between JODI and the Apple App Store that ultimately has to distribute it can be found. This exchange shows how there is a certain logic attached to when an application is considered viable. Here the Apple App Store criticise ZYX's user suitability and its method of communicating with its users.
The work is a good example of another way in which JODI questions network and computer logic. ZYX shows how different forms of communication can be interpreted – and how a not necessarily logical design of a program can give its user new possibilities and experiences.