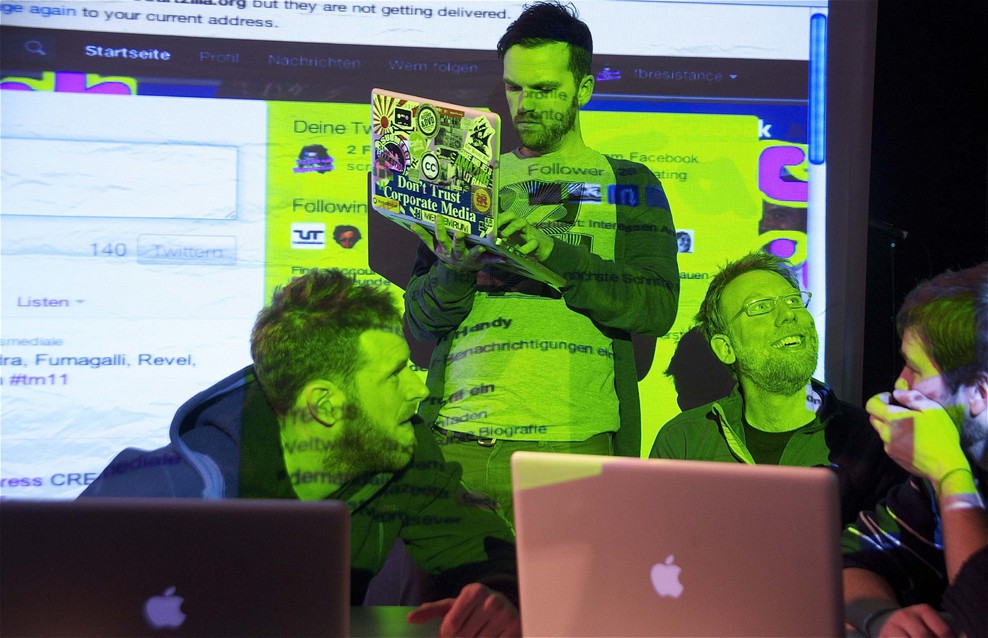 Share
About the artwork: FB Resistance Workshop
The FB Resistance Workshop is a part of the Performing the Media launch event at Supermarkt in Berlin on April 3rd 2014. In this workshop website hacking is in focus, which is closely connected to Leingruber's work with critical strategies applied to social media and online representation.
The FB Resistance Workshops make everybody a concept designer for their own website experience. These workshops were initiated in 2010 by Leingruber and have been hosted in numerous places concerned with critical digital culture, for example at the Transmediale Festival in 2010. The workshop is an introduction to the world of hacking and during the workshops the participators do so-called browser-hacks in the form of modifications and customizations of websites and social media sites via browser add-ons and user-scripts. The focus point is on Facebook, but the strategies can be applied to the net in general. The importance is to get the users and participants to understand what it is they are using when logging on to a social media site, agreeing to the terms and conditions, and hence creating a critical user-culture.
Leingruber invites the users to perform a subversive practice and to become decision makers of their own online experiences. In this sense Leingruber creates a social media critique, which questions information power structures. Furthermore, as we also see in artist Johannes P. Osterhoff's projects, Leingruber works in the realm of criticizing the system of mass surveillance, that we everyday are exposed to on the internet and through social media.
Leigruber's workshop will fall into 3 parts:
1. An artist presentation of his works and practice.
2. An introduction to the technology used to do browser-hacks.
3. Participants code their own hacks.